Creating tempting treats for five generations

We've been baking the perfect recipe to success since 1890. Read more about our 130 year history in our blog.
At the Queensland Bakery Company our family excels at the manufacture and supply of delicious ambient, thaw to serve and bake off sweet baked treats for retail, out of home consumption, food service and wholesale. Founded in 1890, our family bakery has been creating tempting treats for five generations, from classic bakes to the most on-trend products and flavours. From muffins to flapjacks, cookies to shortbreads, we lovingly bake and pack the tastiest treats using tried-and-tested recipes we've developed over many years.
Our focus is the very best taste for the very best price, delivered how and when our customers need it. We go the extra mile to make brilliant bakes and creative cakes, quickly and efficiently and always to the very highest standards.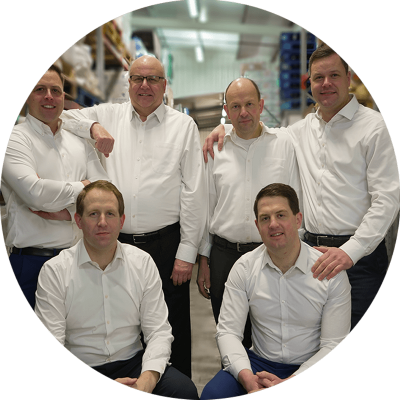 Our team at Queensland Bakery Co. encompasses passion and innovation in everything we do. We're not only committed to delivering the very best bakes but also excelling in our knowledge, experience and skills. That's why we're able to serve over 900 customers, including some of the UK's leading retail, wholesale, out of home and food service clients. 
Meet the team.
Brett
Sales & Marketing Director
Gavin
Process Technologist
Paul
Bakery Integration Specialist
Olegs
Head of Distribution
Lorenzo
Warehouse Operative
Debbie
Customer Service Team Leader
Estelle
Head of Procurement
Dariusz
Bakery Team Leader Great is the minimum
The highest of standards every day.

Stop at nothing to get it done
Delivering solutions quickly and efficiently.

Do what is right
An honest, committed approach.

Think like a customer
Customer focused family heritage.
Sign up for exclusive wholesale offers:
Bakery wholesale uk
From chewy every time cookies to mini loaf cakes made for the perfect snack, we bake a wide range of sweet treats to suit every customer and every occasion.
Wholesale traybakes for any outlet
From pre-packed slices ready to grab and go to large-scale bakes you can portion up on the counter, our traybakes offer loads of serving options in a range of delicious flavours.
Available ambient or frozen, wrapped or unwrapped and ready to pass off as your own, this classic cake option is available for delivery wherever and whenever you need it.
Classic loaf cakes perfectly packaged for one
Our miniature loaf cakes come in a host of tempting flavours, wrapped in cardboard or paper wrappers or naked for that fresh out of the oven look.
All our mini loaves are made with the best quality ingredients and hand-decorated in our bakery for a tempting treat that's impossible to resist.
Melt in the mouth muffins baked to perfection
Carefully prepared with the best bakery ingredients in our state of the art bakery, our muffins are perfect every time, whether you prefer classic chocolate chip to decadent decorated.
Available pre-packed and ready to sell, or ambient or frozen to serve up fresh from the counter, our muffins are the sweet treat your customers won't be able to resist.
Loaves that are better than any bread
Loaf cakes are the ultimate home-baked treat – even when you've ordered them in wholesale. Available as whole loaves, ready sliced, frozen or ambient, our loaf cake collection offers a flexible option for any business.
Ready wrapped brands your customers can trust
Need grab and go options that tempt any customer to treat themselves? Choose from our extensive Marybake brand for classic treats from brownies to Bakewells, or try our Lewis & Baker collection for indulgent cakes with decadent ingredients and on-trend flavours.