Retail cake supplier providing sweet treats for your customers
We provide an array of wholesale cakes and treats for many high footfall convenience retailers and are always at the forefront with our wide variety of thaw and serve or ambient wrapped ranges.
Consumers want good food when and where they need it. So, convenient cake options to grab and go offer a great way to drive sweet treat sales. Giving customers the opportunity to grab a treat with their morning coffee on the move, or swapping complementary pre-packed biscuits for something more special allows you to introduce the surprising moments of pleasure they didn't expect or know they needed.
What to look for from your retail cake suppliers
Convenience is king, but choice is important too, especially when it comes to making the right treat choice so selecting the right retail cake supplier is key. From on-the-go breakfasts to grab and go snacks and indulgent treats, offering the right range of cakes and bakes can really add to your customers' average spend. And keeping your offer fresh will keep them coming back for more.
Baking is big business with the average Brit confessing to eating cake two to three times every week. When grabbing a sweet treat on the go, cake lovers are more discerning than ever, demanding new flavours, formats and finishes to treat themselves with.
Wholesale bakery NPD and innovation
Our creativity, insight and innovative ideas are at the very forefront of everything we do, utilising our BRC Grade A, state-of-the-art commercial bakery. Our dedicated development kitchen team go the extra mile to replicate existing wholesale cake recipes, create bespoke flavours and formats and bake seasonal cakes and trending treats.
Bespoke recipes to set your business apart
Got a food trend you're dying to try? Want a cake that will get customers to choose you over the competition? Our in-house product developers and bakers monitor the latest food trends and insights and can work with you to create bespoke treats perfectly tailored to your business and customer.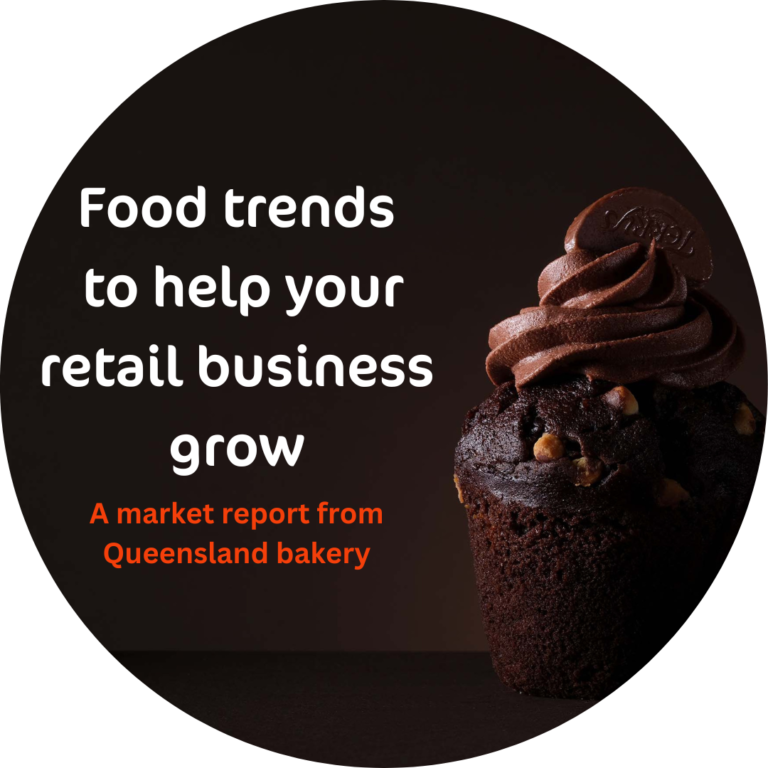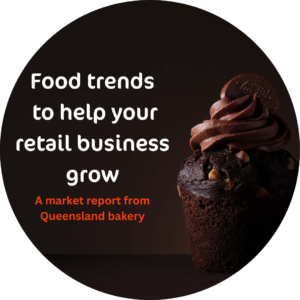 At Queensland Bakery, we keep a careful eye on the market, trends and your customers, to help you stay ahead of the competition. Our latest ebook uncovers the trends prevalent to the retail sector and explores:
– Catering for our ever-changing world
– Five on trend flavours and formats to super-charge your sales
– Three cultural trends that could be affecting your business
– Five lifestyle trends to bring your business into 2023
– Why HFSS regulations don't have to impact your success
– How we support businesses like yours
Our commercial bakery range
Wrapped and ready to serve sweet treats in traditional and on-trend flavours
High quality, high volume products delivered by our trusted network of distributors
Ready-made brands to suit your customers' tastes
NPD and white label services to help you enhance your own brands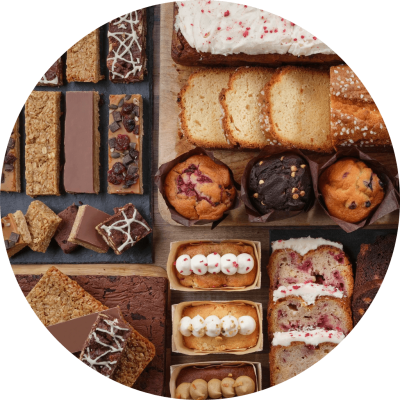 Whether you need a ready for retail bakery range or want to enhance your own brand of cake, flapjacks or traybakes tailored to your customer, we've got the products and expertise to deliver what you need. And with new seasonal flavours introduced regularly, we offer a relevant and tasty range all year round.
The Queensland Bakery Co. has been in the baking business for more than 130 years, helping businesses serve up the very best bakery products. We keep an eye on industry trends and develop off the shelf and bespoke cake options to deliver what your customers want right now.
Our sweet bakery treats come in all shapes, sizes and flavours, and in the perfect packaging to tap in to your customers' needs. And no-one wants to miss out on their favourite bakes, so we provide vegan and vegetarian friendly recipes with wholesale orders too.
Brands to suit all customers
Three ready to retail brands your customers can believe in
When you need bakery products you can buy in and get straight on the shelves, our three retail brands are the ideal solution.
For classic cakes and bakes: Choose our Marybake range covering a range of formats and flavours, like Bakewell slices, flapjack and chocolate brownies.
For a more indulgent eat: Try our Lewis & Baker range, which uses the best ingredients to serve up delicious, convenient treats for even the most discerning customer.
For substantial snacks on the go: Our Marybake GO bars come in a range of classic flavours and formats, perfectly packaged and ready to go.
Or, if you know exactly what your customer values and want to create something unique, we can help you to create your own range of cake and bakery products perfectly tailored to your customers. We can offer the widest range of flavours, formats and serving sizes, branded and packaged to perfectly fit your business.
Need a chocolate brownie with your own 'good as homemade' packaging? Want an on-trend traybake that works for vegan and vegetarian diets? We can work with you to make it happen, and help enhance your bakery brand to create something your customers love.
Sign up for exclusive wholesale offers: